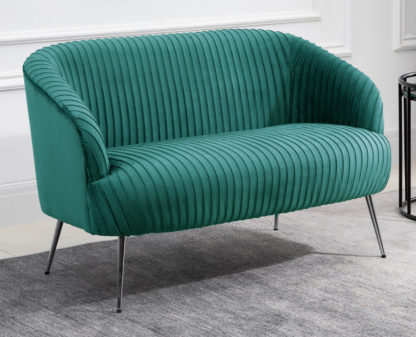 Happy Beds
Layla Green Fabric 2 Seater Sofa
£704.99 From Happy Beds
Description
The Layla Green Fabric 2 Seater Sofa is a highly modern design, boasting soft-touch upholstery in a vibrant green colour, to make a statement in any home. With matching armchair available and a range of colours to choose from, the Layla Sofa is entirely flexible and versatile. The soft-touch luxurious fabric is complete with contemporary pleated design, adding plenty of unique character. The Layla Sofa boasts a rounded, padded backrest with reliable armrests for a cosy form of comfort.
Gorgeously Modern. The Layla Green Fabric 2 Seater Sofa certainly makes a statement, showcasing a beautiful green upholstered fabric which can brighten any room in your home. The pleated effect shown across the soft-touch material adds modern character to this timeless design, creating a unique aesthetic. The vibrant green colour is complemented by modern metal legs, for a beautifully contemporary addition. The Layla Sofa is available to personalise in a choice of three on-trend colours, all complete with the same beautiful finishing touches. You can pair this sofa with coordinating arm chairs, to create a consistently modern seating area for your home.
Cosy & Supportive. Not just a beautiful exterior, the Layla Green Fabric 2 Seater Sofa also boasts a strong internal structure which is designed with body support in mind. Crafted from strong and durable materials, this sofa is coated in a resistant material which protects the frame from damage and wear. The durable metal legs keep the sofa stable, whilst the high-grade materials ensure for a lasting support. As well as soft-touch and luxurious fabric, the Layla 2 Seater Sofa gives you exceptional comfort through padded cushions and backrest, supporting your body from head to toe. Relax and unwind on the reliable, padded armrests offered by the Layla Sofa. Add this stylish piece into your home with ease through quick delivery and assembly processes.