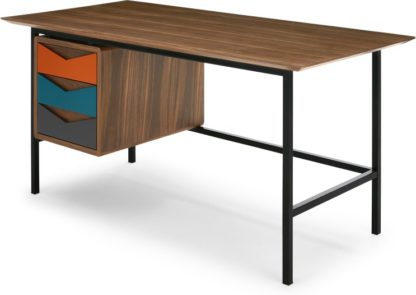 MADE.COM
Louis Desk, Multi Colour and Walnut
£399.00 From MADE.COM
Description
Designed by Sam Wright, our Louis desk is perfect for adding a touch of mid century-chic to your home. A beautifully crafted, luxe design, Louis takes your workspace to the next level.
Louis is an eye-catching piece, that's for sure. The walnut veneer is contrasted with multi-coloured drawer fronts, finished with neat recessed handles and powder coated black metal legs.
Let's face it. Sometimes it's hard to get motivated, but Louis takes care of that. Boost productivity and create a peaceful workspace with its three roomy drawers and sleek, design-led finish.
Our Louis collection features a wide or tall chest of drawers as well as a bedside table and desk so you can easily create a coordinated room, or opt for a single standout piece to add impact.