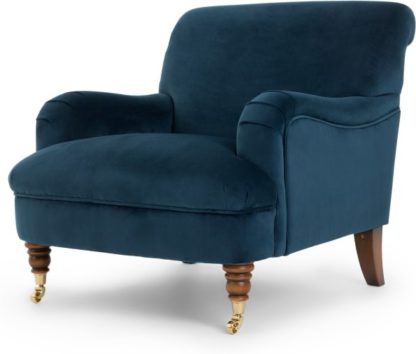 MADE.COM
Made About the House Accent Chair, Midnight Blue Velvet
£599.00 From MADE.COM
Description
MADE and Kate go way back. As an interiors journalist and blogger, she's been an avid supporter of our designs from the beginning, and essentially watched us grow. Welcome to the creative family, Kate.
Her vision: to create a collection with an indulgent feel. One you can sink into after a long day, or do a little work on if need be. With MADE Studio, she nailed those objectives. Check out the rug, table lamp and cushions.
Deep and inviting, this accent chair has a medium-firm seat and supportive back. Upholstered in lush inky velvet, it's finished with lacquered American walnut legs.
Turned front legs on castors bring a smart drawing room vibe. The stitched scrolling at the arms adds just the right amount of opulence.