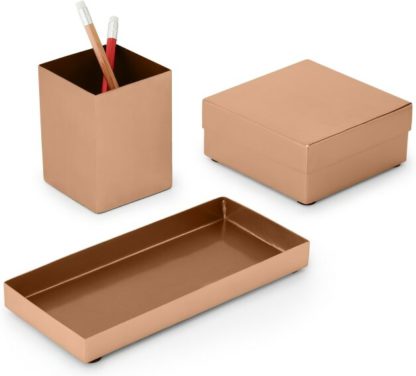 Sale!
MADE.COM
Normos Metal Stationery Set, Copper
Description
If this doesn't spur you on, nothing will. A stationary holder, tray and lidded box to bring some wow-factor to your desk – let's hope it reflects in your work.
The metallic trend is here to stay. This stationery set will help you tap into the warmth and wow-factor of copper without going all out. But trust us – a little still goes a long way.
The weighty feel and shiny finish of this desk collection makes it look like Egyptian treasure. Which makes the pocket-friendly price all the more surprising.
It's not all work. Our clever in-house designers have made matching gold vases to decorate your desk. Line them up for a coordinated look that'll inspire your best efforts.