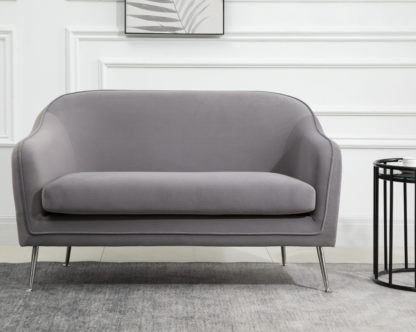 Sale!
Happy Beds
Novello Grey Fabric 2 Seater Sofa
Description
The Novello Grey Fabric 2 Seater Sofa is a sleek, modern and incredibly luxurious seating solution for up to 2 people. The incredibly flexible and versatile light grey finish compliments all decors, whilst the soft touch upholstered material offers endless luxury. With coordinating three seaters also available, the Novello Sofa has a place in every home. Featuring high-quality padded cushions and dual armrests, this stylish design goes beyond aesthetic and offers a wonderful comfort. Designed for convenience, this sofa is flat packed and ready for an easy delivery and self-assembly.
Minimalist Design. The Novello Grey Fabric 2 Seater Sofa is the perfect sofa for small homes of limited space, offering a compact design which can be introduced easily into any home. As a blank canvas, this sofa is coated in a luxurious light grey material, ready to be customised with your own colour schemes through throw cushions and blankets. If you are looking for further seating, you can coordinate the Novello 2 Seater Sofa with matching three seater sofas, creating a highly modern seating area for your living room. The Novello Sofa has a minimalist design with rounded features and silver metal legs, posting plenty of modernity and timeless glamour.
Supportive Seating. With a flexible design, every home can enjoy the exceptional comfort and support offered by the Novello Grey Fabric 2 Seater Sofa. This stylish sofa is designed to host up to 2 people at once, with three seater sofa is also available of the same quality. The Novello Sofa is built using durable materials with an innovative internal structure, designed to maintain its modern shape and offer consistent support to users. Coated in a high grade upholstered material, the internal structure is protected, with exceptional padding throughout the backrest and seating area. The Novello Sofa is delivered flat packed for an effortless arrival into your home, prepared with accessible instructions for an easy self assembly.