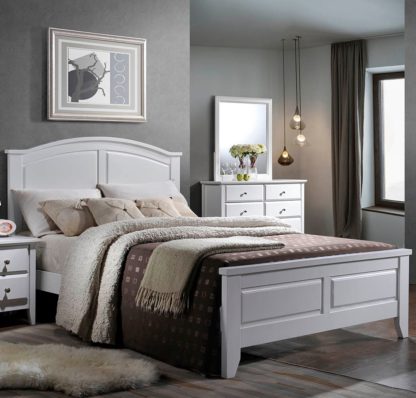 Happy Beds
Parma White Wooden Bed Frame Only – 4ft Small Double
£289.99 From Happy Beds
Description
The Parma Wooden Bed makes for an exceptionally sleek and stylish addition for any bedroom. From the elegantly curved headboard to the distinctively shaped legs, this bed is unique and timeless. The Parma White Bed is built with sustainability and durability in mind. The solid wooden structure ensures this bed will be a gorgeous centerpiece in your bedroom for years to come.
Functional and Durable
With a spacious under bed area for extra storage, the Parma Wooden Bed could have your bedroom looking beautiful and tidy in no time! Crafted from only the highest quality wood, the Parma White Bed is extremely strong and durable. Timeless in design and timeless in build, you can expect to enjoy the beauty of the Parma White Bed for many years to come.
Bevelled and Brilliant
The Parma White Wooden Bed is a beautiful bed that is bursting with character from headboard to toe. The tall headboard features subtle curvature for an elegant aesthetic that is simple yet stunning. The exquisite attention to detail is reinforced with gorgeous bevelled accents that scream high quality. With a design that is timeless and unapologetically neutral, the Parma Wooden Bed is the perfect addition to modern and traditional bedrooms alike.
Single or Double?
The Parma White Wooden Bed is available in both single and double sizes, so you can choose the size that best suits you. No matter which size you choose, the Parma Wooden Bed arrives flat packed for your convenience. Gone are the days when getting your new bed up the stairs was a task for the whole family. Assembly is also easier than ever, thanks to our helpful instructions included with your purchase.