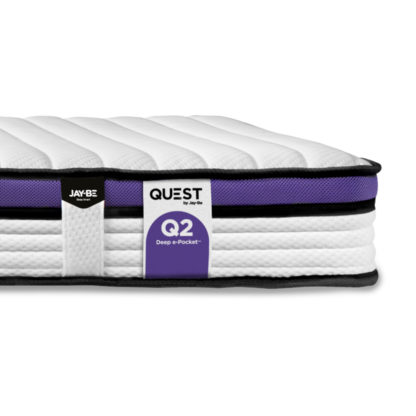 Sale!
Happy Beds
Quest Q2 Extreme Comfort Pocket Sprung Mattress – 3ft Single (90 x 190 cm)
Description
Sleep is both easy and comfortable for children with the Jay-Be Quest Q2 Extreme Comfort Deep e-Pocket Mattress. Crafted from hypoallergenic materials and 100% recyclable, the Quest Q2 mattress combines comfort with being environmentally friendly to give you peace of mind.
Made With Comfort In Mind. The Deep e-Pocket springs have been made to respond independently, allowing them to contour to your child's body as they sleep to provide maximum levels of support. A knitted fabric surface combines with the e-Fibre layers to ensure your child can sleep undisturbed at night whilst the advanced 3.
D spacer allows for extra breathability
A Modern Mattress For Modern Children. Alongside providing high levels of support during the night, the Jay-Be Quest Q2 Extreme Comfort Deep e-Pocket Mattress also helps to promote better health. Crafted with hypoallergenic materials that are 100% recyclable, this mattress is also free from foam, VOC emissions and FR chemical treatment.
Long-Lasting Quality. With multiple layers of high-quality materials, including the eco award-winning advanced e-Fibre and Deep e-Pocket springs, there's no question that the Jay-Be Deep e-Pocket Mattress has been made to the highest standards. A 5-year guarantee is included when the mattress is registered at Jay-Be.
com, and it is also delivered vacuum packed and rolled for ease of movement around your home!