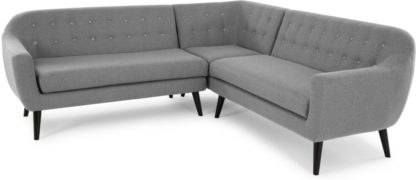 Sale!
MADE.COM
Ritchie Corner Sofa, Pearl Grey
Description
A classic mid-century design, updated with a cool, contemporary finish. Easily adds understated style to your living room.
The buttoning on the backrest gives this piece an extra luxury touch. The solid wood legs are tapered for extra impact.
You love Ritchie. We love Ritchie. That's why we've expanded this popular line to include a compact corner sofa. It slides neatly into tight spaces while providing bags of room for up to five people.