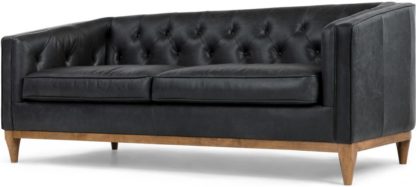 MADE.COM
Rogers 3 Seater Sofa, Oxford Black Premium Leather
£1,499.00 From MADE.COM
Description
You love sleek, modern sofas. But then, you have a soft spot for Chesterfields too. Which should you choose? The Rogers. A traditional leather sofa with a modern twist.
Designed with a clean silhouette and slender armrests to give it a boxy, contemporary shape. Furthered by the slim seat cushions – foam and feather-filled for a luxurious sit.
It's upholstered in Italian leather, which contrasts beautifully against the oak skirt and legs. Class detailing there.
Did you know, you can get this design in an armchair? Complete with the dimpled buttoned backrest, for that traditional look you love.