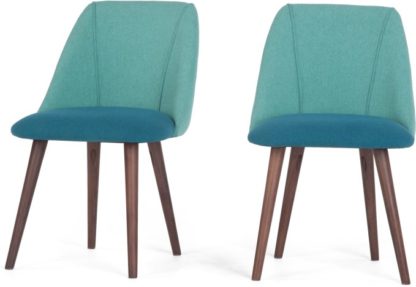 Sale!
MADE.COM
Set of 2 Lule Dining Chairs, Mineral Blue and Emerald Green
Description
The perfect seat for dining, our Lule chairs offer contemporary style whether you're enjoying a meal alone or with guests. Bon appetit.
Slim crossed legs and a curved back and sides create a sophisticated silhouette that makes these chairs a modern classic. We can't take our eyes off of them.
The generous cushioned upholstery makes our Lule chairs suitable for longer sittings. You can even use them as occasional chairs in the bedroom or living room.
Our Lule chairs are available in Mineral Blue with Emerald Green and Marl with Hail Grey, both with walnut legs. Keep things coordinated with multiple pairs in the shame shades or mix and match for an eclectic finish.