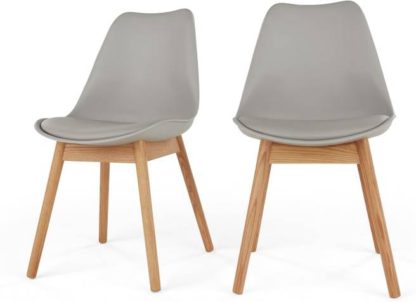 MADE.COM
Set of 2 Thelma Dining Chairs, Oak and Grey
£149.00 From MADE.COM
Description
Let's be honest. Comfy, family-friendly dining chairs don't always scream 'sexy design'. Until now. Meet Thelma – the Nordic-inspired dining chairs for contemporary design fans.
We love their sleek lines, modern curves and solid oak legs. But they're super-comfortable too. The moulded seat has a fixed seat pad for those long, late dining sessions.
Dinner getting a little animated? No worries – this is a wipe-clean design. Just grab a paper towel and wipe away any splashes and spills. It'll be like nothing ever happened.
The beauty of these chairs, apart from their shape and design, is their versatility. Can you picture a dining table these wouldn't complement? Nope, us neither. They're pretty much universal.