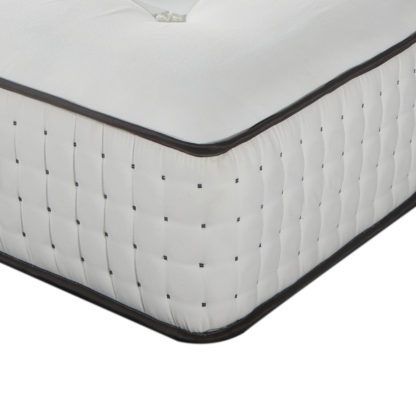 Happy Beds
SleepSoul Harmony Memory Foam Pocket Spring Mattress – 5ft King Size (150 x 200 cm)
£349.99 From Happy Beds
Description
The Sleep
Soul Harmony Mattress contains highly supportive materials that come together to provide comfort to your whole body. Available in 5 sizes, this mattress will make an excellent choice for anyone, whether it be a child or an adult. With a firmness rating of medium/firm, it is ideal for those who prefer a firmer mattress.
Comfortable Components
The Sleep
Soul Harmony Foam Mattress combines different fillings to create a product that is unparalleled in comfort. 3 key components of this mattress are memory foam, convoluted foam and 1000 individual edge-to-edge pocket springs. Thanks to the combination of foam and pocket springs, it is highly effective at relieving pressure and alleviating strain from common pressure areas such as your hips.
Fresh Delivery
Vacuum-sealed and packed into a box, the Sleep
Soul Harmony Foam Mattress will ensure freshness for a longer lasting mattress. This packing also ensures that the mattress is convenient and easy to move around. No more struggling to get your mattress up the stairs!.
Straightforward Assembly
Once you have your Sleep
Soul Harmony Memory Foam Mattress in its desired location, simply remove the box and plastic wrap. Once placed on a bed, it's best to leave the mattress for 24 hours so it can take shape and provide you with ultimate comfort.