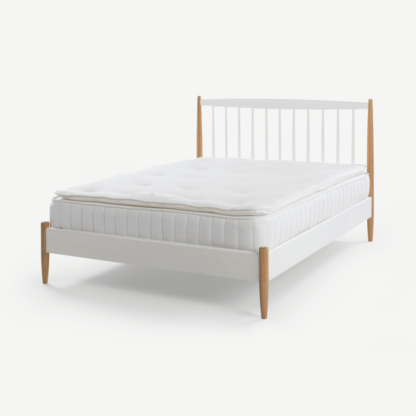 MADE.COM
Tuvo Pillow Top Open Coil, Medium Tension, Double Mattress
£325.00 From MADE.COM
Description
It's just the ticket for a guest room, or for single sleepers. Open coil is also the most popular mattress type in the world, and with good reason. It's a fantastic all-rounder and great value.
Rows of hourglass-shaped coils are all connected on top and bottom, and held in place with polyester fibre. The springs provide balanced support, while the layers of fibre add softness and cushioning.
We'd say it's medium in consistency, but the pillow top adds an extra layer of luxury and comfort. It's also lighter than other mattress types, so it's easy to rotate every few months for evenness.
It's hand crafted in the UK and finished with a breathable polyester-cotton mix fabric. That's a good night's sleep thanks to the quality and comfort.