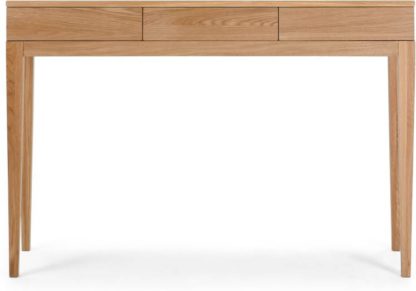 MADE.COM
Vernay Console Desk, Oak
£249.00 From MADE.COM
Description
Sophisticated lines and slim tapered legs, off-set by the natural beauty of oak – a design-led way to give your home an organic touch.
Even the storage is a design feature – split into three and flush against the desktop. Still with plenty of room to keep essentials to hand.
Expertly crafted from thick oak veneer and coated in clear lacquer for a tactile look and feel, as well as a lasting, quality finish.
You can find the same slim proportions and chic lines on the rest of the collection too – mix and match pieces for added impact.