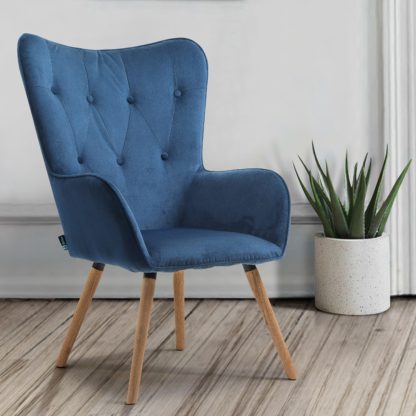 Happy Beds
Willow Midnight Blue Velvet Fabric Chair
£189.99 From Happy Beds
Description
The Willow Chair in midnight blue is a comfortable and stylish armchair for the home or office. This is a stunning design with a slight curve to the high back, a shallow seat and perfectly positioned armrests. It's hard not to feel supported and cosy when sitting in the Willow Chair. The armchair is a wonderful addition to any room, whether used as a regular chair or a statement piece.
High Quality Armchair. Expect high standards when choosing the Willow Chair in midnight blue. The chair is constructed out of excellent materials and component parts. The midnight blue upholstery covers the seat, which is complimented perfectly by the wooden pegged legs. The result is quality design that is built to withstand modern day living. The retro feel of the Willow Chair in midnight blue works equally well in contemporary homes and more traditional settings. It's a timeless piece that will never go out of fashion.
A Beautiful Accent Chair. The Willow Chair in midnight blue is the perfect statement piece. Create an interesting area with the armchair, matched with a simple floor standing lamp and occasional table or potted plant. The corner of the room has never looked so inviting! The comfort of the Willow Chair makes it the perfect place to sit and read your favourite book with a cup of tea; or browse your phone and catch up with the happenings of the day.
A Versatile Seat. Position the Willow Chair in midnight blue in any space in the home that requires additional seating or a focal point. The Willow Chair is versatile, it will work perfectly in the bedroom or the living room. Style your chair in multiple ways and create a room that is Instagram worthy. The Willow Chair is available in different colours.