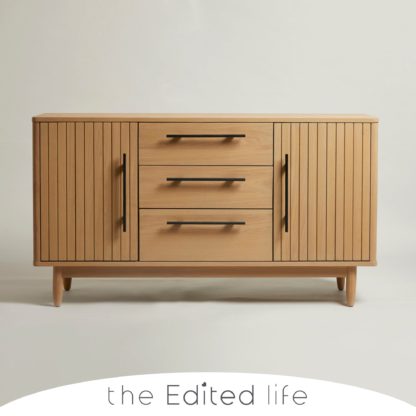 Sale!
The Edited Life
Akina Oak Large Sideboard Brown
Description
The Edited Life – Akina Oak Large Sideboard.
Designed to last a lifetime. Featuring slatted doors and elegant shaped legs, this gorgeous range is inspired by mid-century modern interior trends and beautifully pairs the style influences of both Scandinavia and Japan to create a unique, timeless look.
Providing plenty of useful storage space, the Akina sideboard is as practical as it is stylish, complete with two large cupboards with fixed shelves and three ample-sized drawers. This sideboard also features black metal bar pull door and drawer handles and black drawer interiors that beautifully contrast against the natural oak finish. Please use the wall attachments providing to prevent overturning Care instructions: Avoid prolonged exposure to direct sunlight or extreme conditions. Don't put your furniture near heating sources or in highly air-conditioned spaces. Wipe up spills immediately with a damp cloth and avoid common hazards such as harsh solvents or abrasives.
Live well. Mean well. Be well.
Many of us want to live simpler, more responsible lives. As we become more aware of our surroundings and understand how our choices contribute to the world around us, more people are choosing to consume less and curate more.
The Edited Life introduces a new era of thoughtfulness in the home, with an understated collection of pieces chosen for their simple beauty, quality craftsmanship and innate usefulness that will last beyond any trend.
Having it all is no longer the goal; having enough, and it being just right, is.