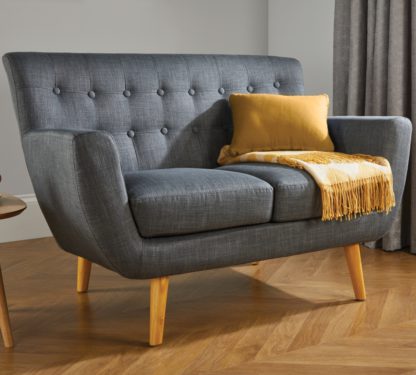 Sale!
Happy Beds
Loft 2 Seater Grey Fabric Sofa
Description
A new sofa should act as the centrepiece of your room, no matter if this is the main room or any other room in your property. It is a piece of furniture that you use almost every day of your life. Therefore, your sofa deserves to be the focus of your whole interior design. To achieve this, you must choose a sofa style that is eye-catching as well as comfortable. This is where we would like to introduce the Loft 2 Seater Grey Fabric Sofa.
This wonderfully constructed sofa frame is elegantly designed to provide optimum comfort and stunning visual appeal. It exists to suit almost every style, from modern and sophisticated taste to classic and mature preferences. The Loft 2 seater sofa will help to define your whole living space, providing subtle aesthetics and supreme relaxation.
Scandinavian Inspired Design. Scandinavian style is synonymous with furniture design. This contemporary sofa takes a lot of influence from the Scandinavian blueprint with bags of retro appeal. Upholstered in a subtle and unassuming grey fabric, rigid framework combines with this softness perfectly to provide comfort and style. Distinguishing wooden legs add to this image, lifting the sofa from the floor to allow easy access underneath. This is incredibly beneficial when it comes to cleaning!.
The juxtaposing legs are fitted at an angle and narrowed towards the end, truly showcasing the sofa's modern twist on a classic shape. When your product arrives, the legs will be concealed in the base of the sofa. Simply remove them and attach as per the included instructions. The maximum weight load for the sofa is 150kg.