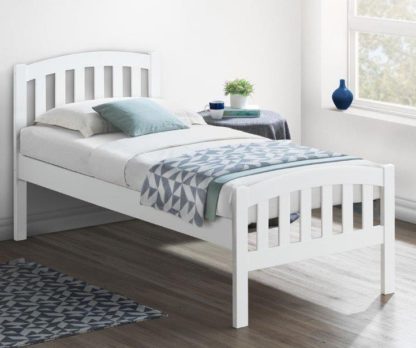 Happy Beds
Lyon White Wooden Bed Frame – 3ft Single
£209.99 From Happy Beds
Description
Crisp and clean, the Lyon White Bed is perfect for guest rooms and kids' rooms alike. Sporting a pristine white finish, this compact bed is certain to look incredible with any existing decor and bedding. If you've been looking for a sleeping solution that nails the fundamentals, you can't go wrong with the Lyon Wooden White Bed!.
Brilliant White Finish
The Lyon Wooden Bed is a gorgeous and timeless piece of furniture, from the high slatted headboard to the matching foot end. The sleek white finish is irresistibly modern, effectively brightening any room lucky enough to contain it. Whether it's complemented by superhero bedding or simply providing your guests with a place to get their forty winks for the night, the Lyon White Bed is a charming sleeping solution.
Versatile Design
Featuring an identical design on both sides, the Lyon White Bed can be placed absolutely anywhere in a bedroom or spare room – yes, even in the centre! The Lyon Wooden Bed boasts a spacious underbed area that's useful for storing belongings and maximising your floor space. Compact and capable, this wonderful bed is the ideal addition to those smaller rooms, allowing them to breathe whilst providing uncompromising comfort.
Quality Wooden Components
The Lyon White Bed is crafted from solid wood components and finished with a layer of lacquer for the ultimate protection against wear and damage. Guaranteed to stand the test of time in both build quality and aesthetics, you can expect to enjoy your Lyon Wooden Bed for many, many years to come.
Size: 3ft Single