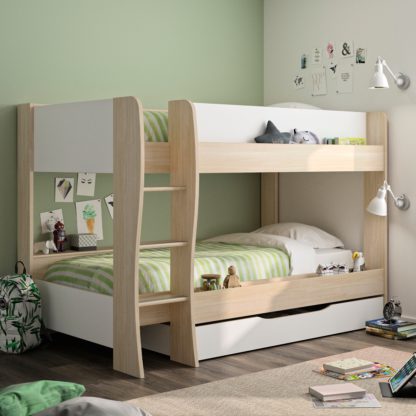 Happy Beds
Roomy Oak and White Wooden Bunk Bed With Storage Drawer Frame – EU Single
£529.99 From Happy Beds
Description
Give your child a bed they will love with the Roomy Oak and White Wooden Bunk Bed With Storage Drawer. A bunk bed is every child's dream, but this wonderful bunk offers storage solutions too, meaning it will make both kids and adults happy!.
Safe, Sturdy and Reliable
You couldn't ask for a sturdier bunk bed than the Roomy Bunk Bed. Made out of thick, sturdy panels with an easy to clean, foil white and oak finish that will look fabulous in any bedroom, regardless of theme or colour scheme. The curved ladder not only allows your child to safely get to the top bunk, but also adds a modern touch to the bed!.
So Much Storage
Not only is the Roomy Oak and White a wonderfully safe first bunk bed for your child, but it has fantastic storage options too. There is a storage box on the side of each bed perfect for storing bedtime stories! And there is also a storage shelf on the side of each bed that is great for displaying your child's favourite toys and books. In addition to this, there is a spacious underbed drawer beneath the bottom bunk, that will really ensure that your child's bedroom stays completely clutter free.
Easy to Assemble
The ladder on the Roomy Oak and White Wooden Bunk Bed with Storage Drawer can be built as seen in the image, to the left hand side of the bed. The bed is delivered to you flat packed for ease of arrival. You can pop it in the room of your choice and build it in absolutely no time following the provided step by step instructions.
Size: European Single