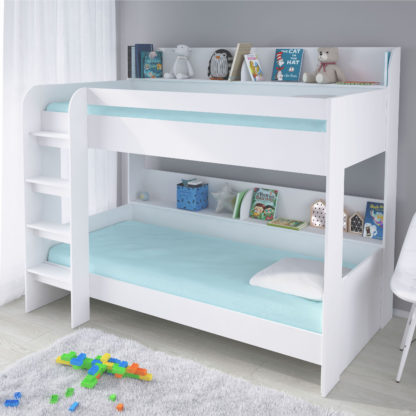 Sale!
Happy Beds
Aerial White Wooden Bunk Bed Frame – 3ft Single
Description
The Aerial White Wooden Bunk Bed is a great choice for siblings who share a room. With each bunk featuring a shelving unit, there'll be no fighting over storage! Perfectly safe, the Aerial Bunk Bed was created per the UK Bunk Bed Safety Regulations. This bunk bed is available for 6-year-olds and above.
Storage isn't an issue with the Aerial Bunk Bed. With 2 shelving units on each bunk, there's space for your kids to have their books and personal items on display. There's also additional storage in the space underneath the bunk, great for storing toys, blankets, games and more!.
Crafted from high-quality wooden particleboard, the Aerial White Bunk Bed is supportive and will easily hold the weight of both your children without the risk of collapse. The frame is also coated in a hard-wearing finish that is child-friendly and simple to clean. Not only will it survive years of use, but it will also maintain its like-new appearance too. It is worth noting, the ladder of the Aerial Bunk Bed is fixed to the left and cannot be moved.