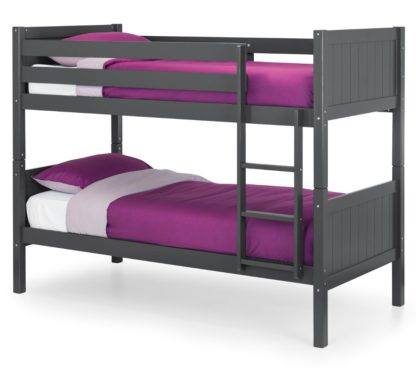 Happy Beds
Bella Grey Wooden Bunk Bed Frame – 3ft Single
£254.99 From Happy Beds
Description
With an unmistakably grey finish, the Bella Grey Wooden Bunk is a gorgeous and timeless piece of furniture that's certain to steal the show in any children's room – even when surrounded by colourful toys, posters and decor! Sleeping up to two children, the Bella Wooden Bunk is ideal for both shared bedrooms and sleepovers, with the only choice being who gets to sleep on the top bunk!.
Robust and Sturdy Structure
The Bella Grey Bunk Bed is crafted from quality wooden components that ensure a robust and sturdy structure that's able to stand the test of time, even when considering the active nature of children. The ladder enables secure access to and from the top bunk whilst the safety rails ensure that the top sleeper can get their forty winks safe and sound, no matter how much they fidget in their sleep.
Beautiful and Versatile Grey Finish
Whilst the dusky grey finish of the Bella Bunk Bed is absolutely gorgeous and certain to be a hit amongst your little ones and their friends, it's also versatile enough to be integrated into all types of children's interiors, no matter what their decor. In fact, the beautiful soft grey tone works wonderfully when complementing vibrant colours that you'd often expect to find in kid's bedrooms.
Slatted Base Comfort. Flat Packed Convenience
The Bella Wooden Bunk Bed is supplied flat packed for your convenience and ease of delivery. Included with your purchase are our helpful step by step instructions, so you can easily self assemble your little one's new bed from the comfort of your own home. Once assembled, your children are certain to appreciate the slatted base that not only helps support them and keep them comfy but also maximise the lifespan of their mattresses. Win, win!.
Size: 3ft Single