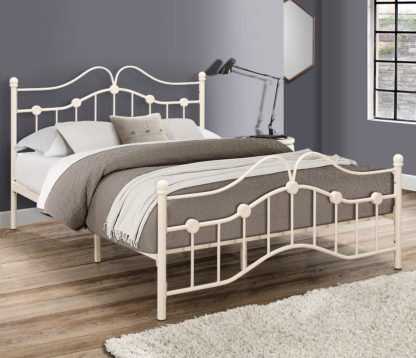 Happy Beds
Canterbury Cream Metal Bed Frame – 4ft Small Double
£154.99 From Happy Beds
Description
Blending traditional Victorian style with versatile elegance, the Happy Beds Canterbury Cream Bed is a beautiful bed frame with both aesthetics and support in mind. With its curved frame design, calm cream colour, and supportive sprung slatted base, this bed is a timeless bedroom piece that will look perfect in a variety of bedroom decor styles whilst keeping you comfortable whilst you sleep at night. Another bonus of the Canterbury is the sturdy extra feet and its large capacity for underbed storage – you'll have no excuse for clutter with this bed!.
The cream colour of the Happy Beds Canterbury Bed is ideal for those who want a bed that can blend into a variety of room design styles and colour schemes, whilst the curved, traditional shape of the headboard and foot end add a timeless quality that will never go out of style. The extra two feet that support the frame add support and sturdiness to the bed, whilst adding a cool quirkiness to the overall design.
Storage boxes, storage drawers, storage baskets – pop them all underneath this bed! The Canterbury has a spacious storage capacity underneath the raised bed frame which is perfect to store extra bedding, clothes, and whatever else you can't find space for.
The Happy Beds Canterbury Bed is also focused on giving you the most comfortable sleeping experience as it has a sprung slatted base to give extra bounce and to support you and the mattress. This base ensures that the mattress gets optimum air circulation and therefore keeps it fresh and dry, helping to prolong mattress life!
Size: 4ft Small Double