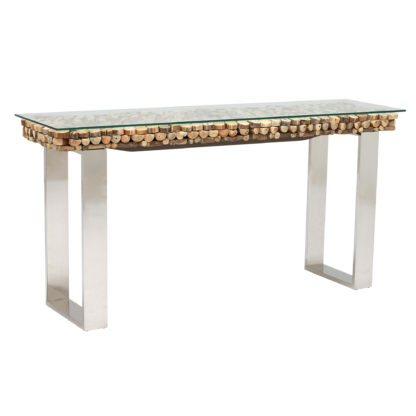 Sale!
Barker and Stonehouse
Caspian Atlantic 180cm Driftwood and Glass Console Table
Description
Stunningly unique, the Atlantic 180cm console table features eye-catching driftwood, sleek stainless steel legs and a contemporary clear glass panel which creates a lovely smooth finish and highlights the beautiful wood placed underneath. With a clean yet rustic appeal and practical design, this is an ideal feature piece for your hallway or living area. Available in various sizes your sure to find a perfect fit and create an awe-inspiring entrance into your home.
Material: Driftwood and Glass
Finish: Natural finish
Weight: 160cm – 47.7kg180cm – 51.6kg
Care: To ensure the longevity of this range, be sure to keep out of direct sunlight, away from radiators and to clean only with a damp cloth. Use protection to avoid spillages and marks from cupsplates etc. Do not expose to sharp objects