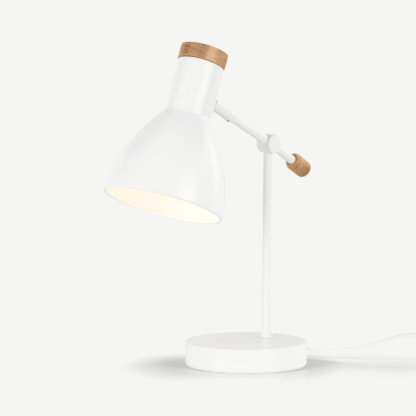 MADE.COM
Cohen Bedside Table Lamp, White
£40.00 From MADE.COM
Description
We're not supposed to play favourites, but this new addition to the Cohen family has us cooing at its cuteness. Wouldn't it be lovely, perched on your bedside table or side table? So would.
Its petite proportions make it more practical for bedrooms and smaller spaces. We've simplified the construction too, so it's adjustable at the neck – just where you need it for reading. It also has a weighted base, so there'll be no tipping.
The colour is powder coated, so it feels smooth and soft to touch – not cold and harsh like other metal lamps. And the warm, natural oak complements its velvety smooth finish.
Did we mention, Cohen has three siblings? Have a look at the collection page and meet the wall lamp, the desk lamp, which is larger and more adjustable, and the floor lamp. The biggest of the three.