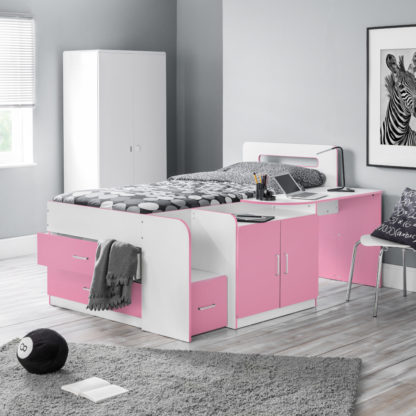 Sale!
Happy Beds
Cookie Pink and White Wooden Cabin Bed Frame – 3ft Single
Description
For those short on space, the Cookie Pink and White Wooden Cabin Bed is an excellent choice. Having the functionality of a whole bedroom in just one single bed space, the compact design utilises every inch of the frame. Packed with lots of storage space for clothes and toys, the Cookie Pink and White Cabin Bed is convenient and promotes a tidy bedroom space.
Fit For A Princess. The complementary pink and white coating of the Cookie Pink and White Bed creates a soothing atmosphere. Designed with pink-lovers in mind, the colour scheme isn't overpowering and instead creates a bold statement, effective with lighter interiors. This bed has a truly unique appearance and stands out against the crowd of traditional children's beds.
Spacious Storage. For children who own a lot of possessions, the Cookie Pink and White Cabin Bed is perfect. Discreetly holding toys, games, and clothes, this cabin bed gives off an organised appearance. The Cookie Cabin Bed contains 3 pull-out drawers and a 2-door cupboard, all coming with a great amount of storage space for all their bedroom essentials. Your child will have a clutter-free bedroom, allowing more room for them to get creative and have fun.
Secure Structure. Built to evenly distribute and support the weight of your child and all of their belongings, the Cookie Pink and White Bed was made to last. Crafted from tough particleboard and coated in a child-friendly lacquer, the cabin bed is resistant to scuffs, marks and is easy-to-clean. It will provide you with years of use whilst preserving its brand-new appearance.