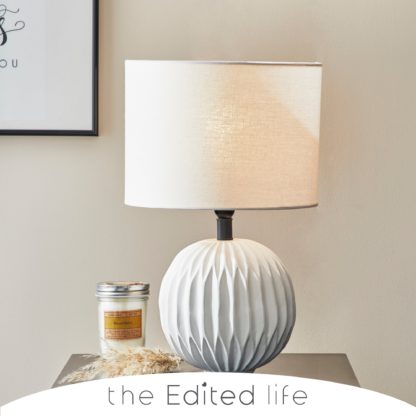 The Edited Life
Ecomix Ball Shaped White Table Lamp White
£25.00 From Dunelm
Description
*
The Edited Life – Ecomix Ball Shaped Table Lamp
Sometimes second chances can really pay off, like getting recycled paper in the mix to create this beautiful hand-crafted lamp base.
Each lamp base is made using recycled newspapers which are then mixed and made into pulp and then hand crafted into shape. This is a hand-crafted lamp is unique in terms of craftsmanship.
*
Live well. Mean well. Be well.
Many of us want to live simpler lives, to reduce our impact on the environment, and improve our wellbeing. As we become more aware of our surroundings and understand how our choices contribute to the world around us, more people are choosing to consume less and curate more. The Edited Life introduces a new era of thoughtfulness in the home, with an understated collection of pieces chosen for their simple beauty, quality craftsmanship and innate usefulness that will last beyond any trend. Having it all is no longer the goal; having enough, and it being just right, is.