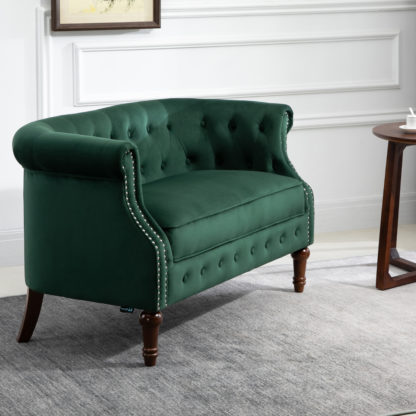 Sale!
Happy Beds
Freya Green Fabric 2 Seater Sofa
Description
The Freya Green Fabric 2 Seater Sofa is an eye-catching and sophisticated seat, designed to host up to two people with optimal comfort. Built from strong materials, the Freya Sofa consists of a sturdy structure standing on four wooden feet. The gorgeous aesthetics include rounded backrest and double armrests, with elegant buttoned details added for extra glamour. The Freya Sofa is highly contemporary with Victorian style studded finishing touches, adding a unique touch to a timeless design. Available in a range of colours and prepared for easy delivery, there is a Freya Fabric Sofa for everyone.
Unique Flair. The best part about the Freya Green Fabric 2 Seater Sofa has to be the unique green upholstered material, which is soft to touch and highly luxurious. With various colours available to choose from, there is a Freya Sofa to suit every décor and colour scheme. The grand and glamorous frame of the Freya Fabric Sofa is complete with rounded armrests, a padded backrest and beautiful finishing touches. With metal studs and deep buttoned details, the Freya Sofa combines elegant living with timeless Victorian style. The sofa stands proudly on dark wooden feet to blend effortlessly with most flooring types, offering the ultimate sofa for any room in your home.
Optimal Comfort. The Freya Green Fabric Sofa hosts up to two people with two spacious and supportive seating spaces, built from high grade materials and coated in a soft touch fabric. Designed to last, the Freya Sofa consists of a sturdy structure with stable wooden feet to stand the test of time. The comforting features of this sofa include deep cushioned backrest with additional padding, a supportive seating area and rounded armrests to offer a complete sense of security. For your convenience, the Freya Sofa is delivered prepared for a quick installation into your home, allowing you to enjoy maximum comfort in no time.