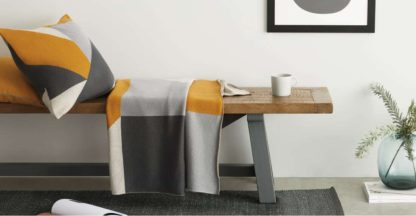 MADE.COM
Holden Cotton Knit Throw 130 x 170cm, Yellow & Grey
£50.00 From MADE.COM
Description
Geometric, cool, colourful – with Holden, three time's the charm. The tesselating pattern gives this cotton knit throw striking style.
Holden has style in spades, but quality and comfort are important too. This throw's crafted from pure, yarn-dyed cotton for a soft-to-touch feel and rich depth of colour.
How do you balance out a bold pattern? With versatile colours. Holden's design is well-considered, and worth your consideration.