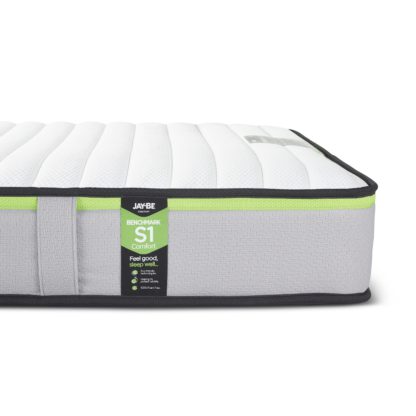 Sale!
Happy Beds
Jay-Be Benchmark S1 Comfort Foam Free Spring Mattress – 3ft Single (90 x 190 cm)
Description
What if a mattress could offer exceptional comfort and support whilst simultaneously helping to save the planet? Well, the Jay-Be Benchmark S1 Mattress can do just that! Featuring a series of innovations that help to regulate moisture and temperature, the S1 Comfort Foam Free Mattress guarantees a well-earned rest every night all the whilst being incredibly eco friendly.
Sustainability and staying green is at the forefront of all of Jay-Be's mattresses. Developed from sustainable plastic materials, the comfort layers in Jay-Be's mattresses are made from e-Fibres and are 100% free of foam. Since switching from foam to e-Fibre, Jay-Be has prevented approximately 70 million plastic bottles from going into the ocean or landfill. All the Jay-Be mattresses are rolled to reduce package size by 70% to reduce carbon emissions during transport. All the packaging is unbleached, 100% recyclable and sustainable!.
Breathable, supportive, hypoallergenic and sustainable. These are just a few of the incredible features that make the Jay-Be Benchmark S1 Comfort Mattress so unique. The use of bespoke materials and technologies such as the deep e-Spring core or innovative e-Fibre help to create a mattress that is good for you and great for the planet. Whether you desire an eco friendly mattress or you're simply looking for the most supportive mattress around, the Jay-Be Benchmark S1 Foam Free Mattress is a truly excellent choice.
If you've been looking for a mattress that truly sets the benchmark for comfort and sustainability, look no further than the Jay-Be S1 Foam Free Spring Mattress..