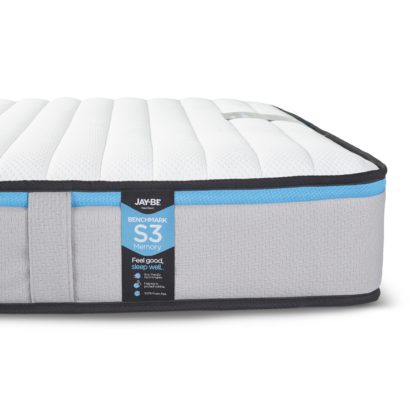 Sale!
Happy Beds
Jay-Be Benchmark S3 Memory Fibre Spring Mattress – 5ft King Size (150 x 200 cm)
Description
So much more than just another mattress, the Jay-Be Benchmark S3 Mattress should be at the very top of your shopping list. Why's that? Glad you asked! Offering incredible support, the Benchmark S3 Memory Fibre Mattress is everything you love about a memory foam mattress only without the foam. The Jay-Be Benchmark Memory Fibre Mattress is crafted with hypoallergenic materials that are sustainable and contain no harmful chemicals, making it a fantastic mattress for both you and the environment.
Sustainability and staying green is at the forefront of all of Jay-Be's mattresses. Developed from sustainable plastic materials, the comfort layers in Jay-Be's mattresses are made from e-Fibres and are 100% free of foam. Since switching from foam to e-Fibre, Jay-Be has prevented approximately 70 million plastic bottles from going into the ocean or landfill. All the Jay-Be mattresses are rolled to reduce package size by 70% to reduce carbon emissions during transport. All the packaging is unbleached, 100% recyclable and sustainable!.
Every part of the Jay-Be Benchmark S3 Memory Spring Mattress has been thoughtfully considered to provide you with the best sleeping experience possible without harming the environment. From the irresistibly soft to the touch luxury knitted cover with a delightful quilted finish to the open cell structure to ensure you don't get too hot, this mattress helps you sleep easier than ever before. All this whilst helping to save the planet by reducing plastic waste, land use, water use and CO2 emissions.
Offering responsive support and divine comfort, the Jay-Be Benchmark S3 Fibre Mattress provides everything you need for the perfect night's sleep whilst also helping to save the environment.