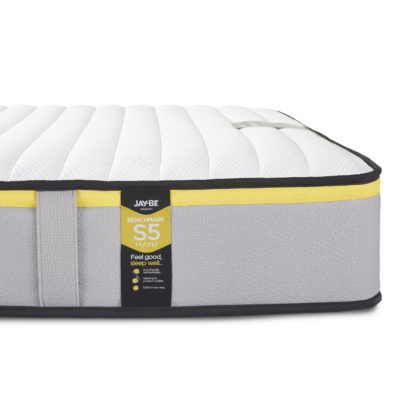 Sale!
Happy Beds
Jay-Be Benchmark S5 Hybrid Pocket Spring Mattress – 4ft Small Double (120 x 190 cm)
Description
The Jay-Be Benchmark S5 Hybrid Mattress priorities the environment whilst offering you the exceptional support and comfort that you've come to expect from a modern mattress. The Jay-Be Pocket Spring Mattress is so much more than that, though. Featuring hypoallergenic materials and absolutely no nasty chemicals, this mattress allows you to rest easy knowing that you're doing your bit to help save the planet and getting your forty winks in the process!.
Sustainability and staying green is at the forefront of all of Jay-Be's mattresses. Developed from sustainable plastic materials, the comfort layers in Jay-Be's mattresses are made from e-Fibres and are 100% free of foam. Since switching from foam to e-Fibre, Jay-Be has prevented approximately 70 million plastic bottles from going into the ocean or landfill. All the Jay-Be mattresses are rolled to reduce package size by 70% to reduce carbon emissions during transport. All the packaging is unbleached, 100% recyclable and sustainable!.
Boasting one of the most advanced pocket spring technologies available, the Jay-Be S5 Hybrid Mattress is definitely worthy of the benchmark name. This innovative yet environmentally friendly mattress is certain to help you get an excellent night's sleep every night, thanks to its fantastic temperature regulation and ability to reduce moisture. The unique combination of e-Fibre and e-Pocket springs make the Jay-Be Benchmark Hybrid Mattress an exceptional choice for those who are not only concerned about the environment but for those who simply want a mattress that offers the best sleeping experience possible.
Sustainable and 100% foam free, the Jay-Be Benchmark S5 Hybrid Mattress combines a series of innovations that result in an incredible mattress that not only offers maximum comfort and support but also helps to save the planet by reducing waste.