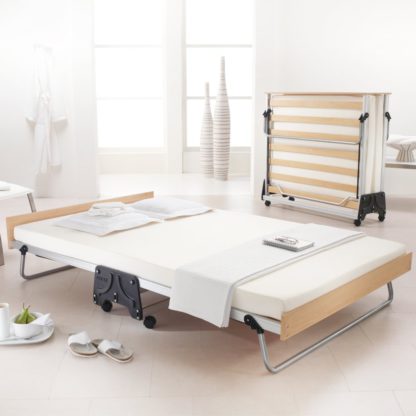 Happy Beds
Jay-Be J-Bed Folding Bed with Memory Mattress – 3ft Single
£379.99 From Happy Beds
Description
Jay-Be J-Bed Folding Bed With Mattress
Introducing a folding bed like you've never experienced before. With a fantastic design and innovative technologies that ensure this bed remains compact and practical, the Jay-Be J-Bed takes foldable beds to the next level. The J-Bed is larger than traditional single beds, allowing for a more spacious sleeping area all the whilst being compact and easy to store. If that's not enough, there's even a 4ft small double size available, making it ideal for regular guests.
A Luxurious Foldable Sleeping Solution
The J-Bed comes loaded with incredible features that make for a truly wonderful and portable sleeping solution. The innovative J-Lok mechanism, coupled with the 360° castors allow for effortless foldability and manoeuvrability. The anodised aluminium is durable yet lightweight, so it provides a strong and sturdy sleeping experience – without requiring a gym membership to move it! The Jay-be J-Bed Folding Bed is finished off with a full width oak effect headboard and footboard, providing a lovely touch of class that also helps keep your mattress securely in place.
Crafted using only the highest quality materials here in the UK, the J-Bed is perfect for those who want a greener option. That's because the Jay-Be J-Bed uses sustainably sourced materials, including FSC certified wood and highly recyclable aluminium. The Jay-Be J-Bed doesn't compromise on safety, however, as it easily surpasses British, European and North American standards, so it's good for you and the environment!.
Bespoke Mattress Included. Which Will You Choose?
The Jay-Be Folding Bed requires a specific mattress that meets its requirements. That's because these mattresses must be vigorously tested to maintain performance even after being folded and unfolded time and time again. Included with every purchase of the Jay-Be J-Bed Folding Bed is a mattress of your choice. You can choose one of the following options:.
Performance e-Fibre Mattress
High performance fabric cover that offers higher fire resistance and maximum durability, making it suitable for contract use. Breathable Rebound e-Fibre comfort layer.
Eco-friendly by design, helping to reduce plastic waste
The Performance e-Fibre Mattress offers all the incredible comfort and support of the Rebound e-Fibre Mattress, only with a higher performance fabric cover. Crafted using the same smart polyester fibres that are bonded to create a breathable comfort layer, the Performance e-Fibre Mattress remains a fantastic option for those looking to do their bit to help save the planet. Perfect for contract use, the Performance e-Fibre Mattress features a higher performance fabric cover that has a greater level of fire resistance and durability.
Memory e-Fibre Mattress
Super soft knitted sleeping surface
Memory e-Fibre layer that provides all the benefits of memory foam – without the foam!
Breathable Rebound e-Fibre comfort layer
If you're looking for the ultimate comfort, the Memory e-Fibre Mattress is undoubtedly the way to go. Featuring a knitted sleep surface that's extremely soft to the touch and hypoallergenic, you will have absolutely no problems drifting off on this lavishly comfortable mattress.
The unique memory e-Fibre layer offers quick response pressure relief whilst providing maximum comfort, allowing you to drift off no matter where you are. Finally, the breathable Rebound e-Fibre comfort layer uses smart polyester fibres that are bonded together to create a hypoallergenic, breathable comfort layer. All the whilst being 100% foam free and helping reduce plastic waste.
Micro e-Pocket Mattress
Classic hand-tufted construction
Breathable Rebound e-Fibre comfort layer
Micro e-Pocket layer, made up of 400 individual springs (600 on small double) that adapt to the contours of your body, providing incredible comfort and paramount support.
Providing exceptional breathability and lavish comfort, the Micro e-Pocket anti-allergy Mattress is a luxurious choice – both inside and out. The advanced Micro e-Pocket layer boasts 400 springs, with 600 on the small double size, which all work together to adapt to the contours of your body. As if the incredible comfort wasn't enough, the Micro e-Pocket Mattress helps reduce landfill waste, making it a much greener option than competing products.
The Micro e-Pocket Mattress is also coated with Purotex, a 100% natural probiotic technology which helps to absorb moisture and reduce allergens caused by dust mites. Basically, it helps you sleep easier!.