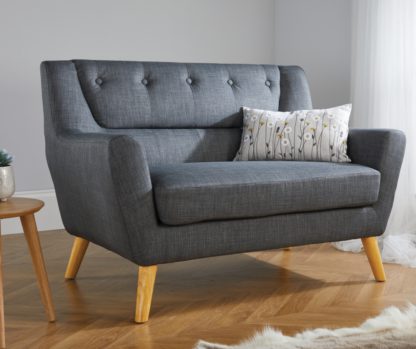 Sale!
Happy Beds
Lambeth 2 Seater Grey Fabric Sofa
Description
The Lambeth Medium Grey Fabric Sofa is ideal for those smaller, more confined areas where a larger model will take too much room. Or perhaps you're just in the market for a dainty luxurious sofa with contemporary features? Stop here! This little beauty from Lambeth just screams boutique fashion and modern trend. Purchase this medium-sized stunner and you're guaranteed a new centrepiece for your living space!.
The buttoned effect backrest takes influence from the retro sofa style, whilst crisp and clean lines radiate current furniture fashion trends. This framework is completely upholstered in a lovely grey fabric material that is soft to the touch and extremely comforting. These factors combine to offer a choice of sofa that is both modest and ostentatious at the same time. This allows the sofa to blend beautifully with your existing (or perhaps brand new) choice of interior design.
Lambeth's Angled Wooden Legs. The wooden legs featured on the Lambeth sofa range contrast beautifully with the dark grey fabric seen here. They also contribute towards the sofa's overall retro inspired image. The legs are pointed at one end and fixed on an angle, upholding this picture of a crisp and classic design with a modern twist.
The inclusion of these legs mean the sofa is of course lifted from the floor. This makes hoovering and general cleaning a whole lot easier! There is nothing worse than dragging your sofa out of its place and seeing weeks' worth of dust collected underneath! With access from all sides, this is not a problem with a Lambeth!