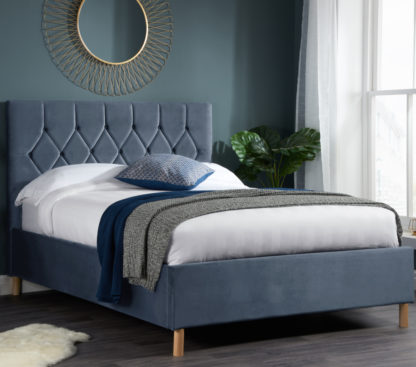 Happy Beds
Loxley Grey Velvet Bed Frame – 4ft6 Double
£284.99 From Happy Beds
Description
Introducing the Loxley Grey Velvet Bed, an absolutely gorgeous bedroom centrepiece that offers maximum comfort coupled with lavish beauty. Bursting with character, the Loxley Velvet Fabric Bed makes for a perfect addition into traditional and modern bedrooms alike. So if you're looking for a bed that screams class in a plush, soft to the touch frame, look no further than the Loxley Grey Velvet Bed.
Neutral and Gorgeous Grey Upholstery
The Loxley Bed is upholstered in an incredibly beautiful grey velvet fabric that oozes premium vibes. The large buttoned headboard provides a wonderful touch of class that is certain to attract envious compliments. Perfect for any bedroom, the lovely and warm grey tones help to make this bed neutral and versatile, so it can can be effortlessly adapted into your room of choice with ease.
Distinctive Cylindrical Wooden Legs
Whilst the gorgeous grey upholstery is undoubtedly the show-stealer, those eccentric yet sophisticated legs are certainly worth mentioning. Distinguishly cylindrical, the natural wooden tones contrast beautifully with the soft, grey fabric for a truly stunning aesthetic. This all makes for an incredibly gorgeous bed that features exquisite attention to detail, resulting in a luxurious addition for any bedroom.
Sprung Slatted Comfort
The Loxley Grey Velvet Bed has been engineered for maximum comfort for all those lucky enough to sleep in it. The sprung slatted base helps provide a cushioned yet supportive sleeping experience, so you can say goodbye to waking up with a bad back! The velvet fabric upholstery also boasts a wonderful soft to the touch feel, helping you to feel relaxed and ready for drift off.