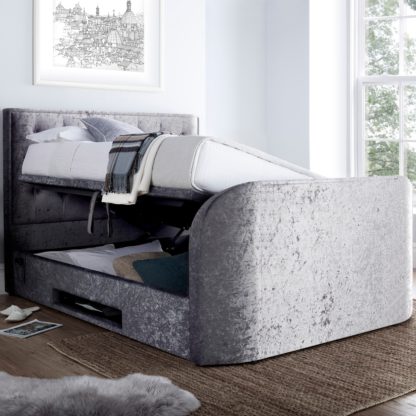 Sale!
Happy Beds
Lyon Silver Velvet Fabric Ottoman Media Electric TV Bed Frame – 4ft6 Double
Description
The Lyon Velvet Ottoman TV Bed is a unique blend of luxurious style and incredible technology that helps enrich your bedroom, effectively turning it into a home theatre system! With the Lyon TV Bed, you can relax in maximum comfort whilst you enjoy your favourite games, films and TV shows in an immersive surround sound experience. If you're looking for a complete all-in-one-solution that offers storage aplenty and incredible entertainment from the comfort of your own bed, the Lyon Crushed Velvet Ottoman TV Bed is an exceptional choice.
Designer Velvet Fabric
Upholstered in designer silver crushed velvet fabric, the Lyon Ottoman TV Bed brings a touch of luxury into any room luckily enough to contain it. The rectangular deep-buttoned headboard is irresistibly stylish and bursting with character. The soft and warm grey tones are certain to complement your existing furniture and bedding effortlessly, whilst remaining elegantly timeless for many years to come.
2 USB Sockets. Surround Sound Speakers. Bluetooth Connectivity. Remote Controlled Electric TV Mechanism. 43" TV Compatibility. Fully Discrete Wires and Cabling.
Immersive Entertainment
At first glance, you may be forgiven for thinking the Lyon Silver Ottoman Bed is just an ordinary bed, but that's certainly not the case! Housing a TV up to 43" in it's footboard, the Lyon Ottoman TV Bed is a multimedia powerhouse that provides a rich gaming and watching experience. Enjoy immersive audio thanks to the 2.1 surround sound speaker system with built in subwoofer, with an integrated remote control that allows you to adjust the bass levels to your personal taste. The Lyon Silver Velvet TV Bed also boasts Bluetooth connectivity, USB charging points on both sides of the headboard and even an intuitive auto TV switch off feature when the TV is lowered back into the footboard.
Comfortable and Convenient
The Lyon Fabric Ottoman TV Bed is engineered for maximum comfort thanks to its ventilated style mattress base, so you can enjoy your entertainment whilst being as snug as a bug. With storage features aplenty, the Lyon TV Bed encourages you to be organised, with its gas lift ottoman style mattress base offering all the storage space you could ever need in a discrete design. There's even a compartment area integrated into the bed that's ideal for storing your TV box or games console, so you can say goodbye to messy wires!.