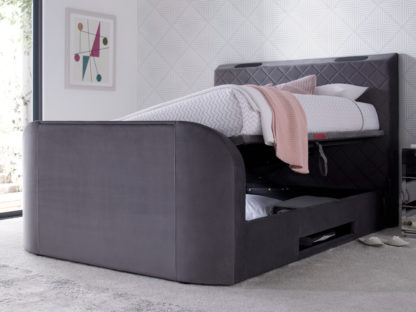 Sale!
Happy Beds
Paris Grey Velvet Ottoman Electric Media TV Bed – 4ft6 Double
Description
Like its namesake, the Paris TV bed is nothing short of luxury. Whether listening to music or having a movie night in bed, the Paris can accommodate all your needs. Featuring superb technological features and an elegant appearance, the Paris TV bed was made to stand out.
Technologically Advance. The ultimate technological masterpiece, the Paris Grey Velvet TV Bed, features innovative mod cons, including a built-in subwoofer and 4.1 surround sound that will upgrade your movie nights to a whole new level. For convenience, the Paris TV Bed also features a USB charger on each side of the headboard and Bluetooth connectivity capabilities, meaning you can quickly charge and connect up your phone to play music or watch Disney+ in comfort. Please note that your TV will need to be compatible with a wall mount in order to be used with this bed, as it features an integrated wall mount.
Stand Out Appearance. The Paris Velvet Ottoman Electric Media Bed's appearance is luxurious and is a centrepiece item for your bedroom. Upholstered in sleek grey velvet, this bed also features a statement quilted headboard that is luxurious and will add some elegance to the space. The Paris TV bed is sure to transform your bedroom.
Super Storage. The spacious ottoman storage completes the Paris Grey Velvet Media TV Bed. The easy gas lift mechanism makes accessing the storage area a breeze, allowing you to store bedding, pillows, and more with no problem. Also included is a fabric handle that is easy to grip and is used to access the ottoman area; simply pull upwards, and the mattress's base lifts to reveal discreet storage.