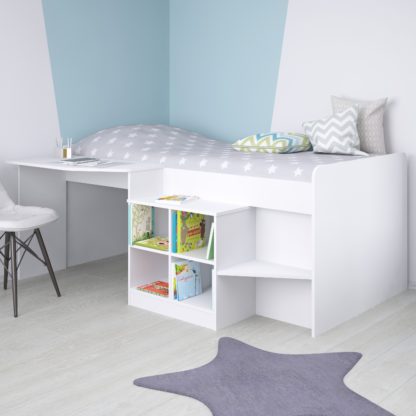 Sale!
Happy Beds
Pilot White Wooden Mid Sleeper Cabin Bed Frame – 3ft Single
Description
The Pilot Cabin Bed White isn't just a stylish addition to a child's bedroom; it's also an impressively practical one. The cosy sleeping space is superbly reliable, able to comfortably accommodate virtually any child-friendly mattress, whereas the rest of the frame features several distinct pieces of additional furniture attached to it.
Fantastic Furniture
Complete with a modest sized desk and an average sized shelving space, kids can do homework, play with toys and read on the Pilot Cabin Bed White, all whilst keeping the room relatively clutter free. More potential storage space can be found under the Pilot Cabin Bed White's sleeping space, which is open enough for plenty to fit under there.
Crisp Style
Arriving in an almost pearlescent white, the Pilot Cabin Bed White is easily able to adhere to any decor, though rooms already leaning more towards the modern or contemporary will most likely benefit more from its style. The compact nature of the Pilot Cabin Bed White also means it can be applied quite comfortably to even smaller, cosier rooms.
Easily Obtained Durability
Being crafted from incredibly durable and rather thick MDF, the Pilot Cabin Bed White is sure to last for years. This durability is easily achieved as well, as the Pilot Cabin Bed White arrives in a flat pack format and comes paired with comprehensive instructions, making the assembly process quite simple.