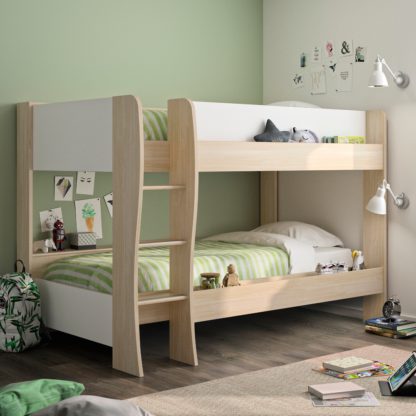 Happy Beds
Roomy Oak and White Wooden Bunk Bed Frame – EU Single
£454.99 From Happy Beds
Description
The Roomy Oak and White Bunk Bed is an exceptionally high quality bed that offers all the storage your young ones could ever need. Offering two spacious bunks in a sturdy frame that is guaranteed to last, the Roomy Wooden Bunk Bed is the perfect all-in-one solution that is perfect for boys and girls bedrooms alike.
All-in-one Storage Solution
With ample storage solutions integrated into the frame, the Roomy Oak and White Wooden Bed encourages a clean and tidy bedroom. The Roomy Wooden Bunk Bed features two sets of storage pockets on the front of the bed and generously sized shelves at the back, one for each bunk. With this much storage on offer, you will never have to tell them to clean their bedrooms again!.
Sleek and Versatile
The Roomy Wooden Bed is exceptionally sleek and modern, making for a perfect addition into absolutely any bedroom. With a stunning two tone white and oak effect finish, the Roomy Wooden Bunk Bed complements existing furniture effortlessly whilst offering a bright and natural aesthetic.
Safe and Sturdy
Crafted from high quality wooden components, the Roomy Oak and White Bunk Bed is engineered for maximum strength and durability. With an elegant, curved ladder that is placed on the left-hand side of the bed, accessing the top bunk is easy and fun. The Roomy Wooden Bunk Bed boasts 19mm thick panels that ensure an incredibly long lasting lifespan that can withstand even the most overactive of sleepers. The Roomy Wooden Bunk Bed is supplied flat packed for your convenience, with helpful instructions provided to guarantee a quick and easy self assembly.
Size: European Single