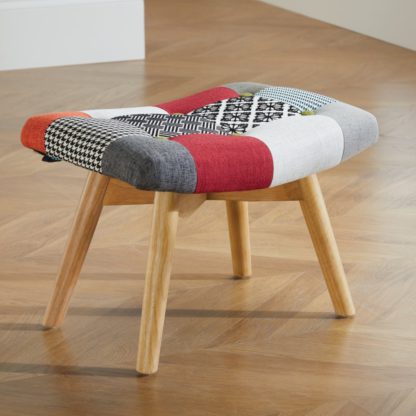 Sale!
Happy Beds
Sloane Multi-Coloured Patchwork Fabric Stool
Description
Introduce some unique style into your home with the Sloane Stool Patched. The Sloane Stool Patched works perfectly with any of the pieces of furniture in our Sloane collection. The stool is upholstered in an attractive and unique patchwork design fabric made from quality polyester. Rest your feet on the stool, use it as an additional chair or as a statement piece in any room.
Versatile Stool
The Sloane Stool Patched works perfectly in practically any room in the home. The stool could be used as an occasional chair or a unique storage table in the bedroom. You can even use it as a seat in the bathroom! Place the Sloane Stool Patched with the Sloane armchair and use as a footrest. Alternatively, use the Sloane Stool Patched in the hallway as the perfect perch for taking shoes on and off. There are endless uses for the stool, making it the perfect addition to any home!.
Strong and Reliable
The Sloane Stool Patched is built to last, it's strong and reliable. The stool has plenty of strength thanks to the quality materials used in the construction, along with the attractive and sturdy design. The fabric is also excellent quality, upholstered in the quirky quilted polyester style.
Colourful and Unique
The colourful patchwork design of the Sloane Stool Patched is fun and unique. This is a piece of furniture that adds interest to any room, along with a practical place to rest and perch. Use the stool as a place to sit or as a footrest or occasional table. This is a versatile piece of furniture that will be a terrific addition to any room in the home. Enjoy the Sloane Stool Patched as a standalone piece of furniture or combine it with other pieces from the unique Sloane Multi-Coloured Patchwork Bedroom Furniture Collection.