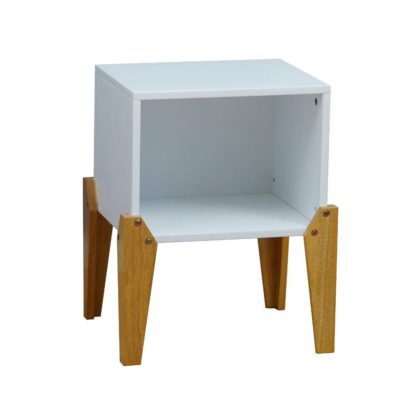 Sale!
Happy Beds
Solar Joybox White and Oak Wooden Bedside Table
Description
A delightful addition to the bedroom on its own, the Solar Joybox Bedside White is innovatively designed to stack on top of other Solar Joybox Bedsides, which means it can either be applied to the bedroom or serve as an enchanting, personalised bookcase or display cabinet.
Stacked Style
Designed with a focus on minimalistic style, Solar Joybox Bedside White is simply an accommodating cube with charming wooden legs. This simplistic design makes the Solar Joybox Bedside White an exceptionally adaptable addition to the home though, being able to serve as a modest bedside table or even as a larger piece of furniture, as multiple Solar Joybox Bedsides can be stacked atop of each other.
Effortless Assembly
The Solar Joybox Bedside White has been crafted to be incredibly durable, not just due to its naturally supportive design but because of the exceptional quality materials it utilises. Though the Solar Joybox Bedside White requires self-assembly the process is incredibly simple, with only each leg needing to be screwed on.
Solar Children's Furniture Collection
The product is part of the Solar Children's Bedroom Furniture Collection