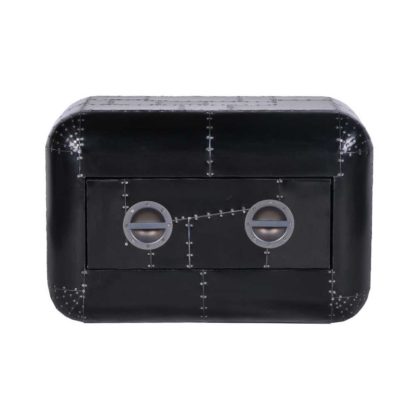 Sale!
Barker and Stonehouse
Timothy Oulton Aviator Blackhawk Lightweight Chest, Black Spitfire
Description
The Aviator Blackhawk collection is an industrial-style range inspired by two different military aircraft, melded together in one awesome piece of craftmanship. The rounded edges and unique drawer handles are reminiscent of the curved lines of the famous Black Hawk helicopter while the Spitfire finish takes its cue from the historic Spitfire fighter plane. Echoing the Spitfires multi-riveted construction of interlocking aluminium panels, the metal is put through a five-stage finishing process to create an impression of worn, distressed metal.
Materials: Solid wood frame and aluminium
Finish: Black Spitfire finish with a distressed and worn look and visible multi-rivet construction
Handles: Unique metal design
Features: x1 black fabric lined drawers with metal runners