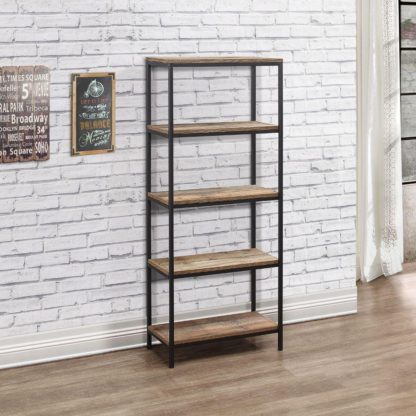 Sale!
Happy Beds
Urban Rustic 5 Tier Bookcase
Description
Introduce extra storage in your home without sacrificing style with the Urban 5 Tier Bookcase. The bookcase, part of our Urban Collection, has a rustic wood-effect finish and metal frame to create the industrial chic look that is so appealing to modern homeowners. The 5 shelves provide plenty of space to store your belongings, books, files and any items you'd like to proudly display in your home.
Industrial Chic Design
Contemporary homes are the perfect backdrop to the Urban 5 Tier Bookcase. Clean and simple lines work together with the choice of metal frame and wood-effect finish – both of which recreate the industrial chic style that is a popular trend within interior design. The simple lines and material choice result in an interesting piece of furniture that captures the eye. It's the perfect focal point that compliments any modern setting!.
A Bookcase for Modern Homes
The Urban 5 Tier Bookcase looks incredible, and it also serves a purpose. The strong and sturdy frame is exactly what you need to store books and other items. Position the tall bookcase against a wall and use the 5 shelves to create an attractive display using your favourite items.
The 5 shelves and the generous sizing of each of the shelves on the Urban 5 Tier Bookcase makes it a versatile piece of furniture. The bookcase would suit a modern living room or a busy office space. The modern design and quality craftmanship is clear for everyone to see – including your jealous neighbours!.
Quality Bookcase from the Urban Collection
The quality of the Urban 5 Tier Bookcase results in a reliable piece of furniture for contemporary settings. The bookcase is part of the Urban Collection, mix and match your favourite pieces to create a modern room with an industrial atmosphere found in the loft apartments of New York city! The product is part of the Urban Wooden Bedroom Furniture Collection.