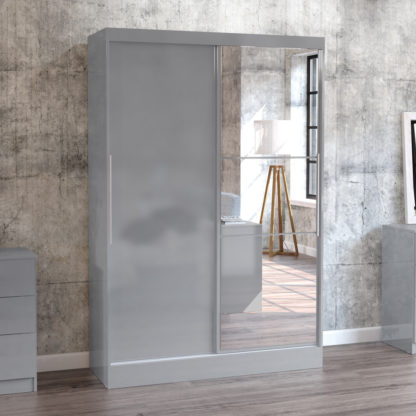 Happy Beds
Lynx Grey 2 Door Sliding Wardrobe with Mirror
£399.99 From Happy Beds
Description
The Lynx Grey 2 Door Sliding Wardrobe is the ultimate storage solution for your clothing, complete with varied storage features and a reliable construct to promote an organised bedroom. Crafted from heavy duty MDP, the Lynx Wardrobe conceals copious amounts of storage space behind two sliding doors and a large mirror feature. Within the wardrobe is plenty of hanging space fitted with strong rail, as well as an internal shelving area for storing more items. Coated in a contemporary grey high gloss finish, the Lynx Wardrobe is easily maintained and cleaned, designed to fit into any interior style.
High-Gloss Modernity. The Lynx Grey 2 Door Sliding Wardrobe has a highly modern aesthetic, showcasing a high gloss grey finish to coordinate with a wide range of colour schemes in your home. Designed to conserve space in your home, the Lynx Wardrobe makes the most of your available floor room in a vertical construct which provides plenty of storage space. Externally, there is a smooth gloss door and large feature mirror, with no handles for a seamless effect. The Lynx Wardrobe is beautiful in design and convenient in structure, with coordinating furniture items available to complete your bedroom theme. You can on top of cleanliness with easy wipe surfaces, making the Lynx Wardrobe a low maintenance furniture item.
Savvy Storage. The design of the Lynx Grey 2 Door Wardrobe is made to conceal your organised belongings in the best way possible, showing a large feature mirror and handle-less doors to offer a seamlessly modern exterior. The wardrobe is crafted from a high quality MDP for a long lasting structure, built into a vertical construct to conserve floor space in your home. Within the Lynx Wardrobe, there is a reliable hanging rail with plenty of space for storage, as well as a generously sized internal shelf. The Lynx 2 Door Wardrobe is fitted with sliding doors for an easy opening to your belongings, with no handles for a more modern aesthetic. The Lynx Wardrobe is designed for a quick self assembly in your home, accompanied by accessible instructions to help you.