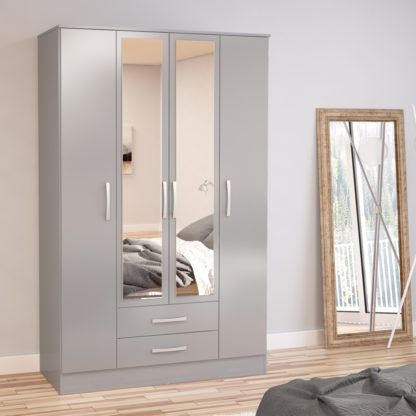 Happy Beds
Lynx Grey 4 Door 2 Drawer Wardrobe with Mirror
£394.99 From Happy Beds
Description
The Lynx Grey 4 Door Combination Wardrobe boasts a consistent storage solution within a seamlessly modern aesthetic, fitted with an external mirror and plenty of organisation space. Built from strong MDP, the Lynx 4 Door Wardrobe features two generously sized drawers, plenty of hanging space and internal shelving. The contemporary exterior of this wardrobe is offered through high gloss grey lacquer, which is easily maintained and highly modern in aesthetic. Coordinate the Lynx 4 Door Wardrobe with the rest of the Lynx Grey Collection for a flawless storage set up in your home.
Maximise Your Space. We have the perfect solution for those looking to maximise their space through convenient storage space, with the Lynx Grey 4 Door Combination Wardrobe. Built from a durable MDP, the Lynx Collection boasts a reliable construct which prevents signs of damage and stands the test of time. The high gloss lacquer is easily maintained and cleaned, offering further resilience against signs of west. The key features to the brilliant Lynx Grey Wardrobe include four doors concealing plenty of storage space, two generously sized drawers, an external mirror feature, plenty of internal shelving storage and a hanging area fitted with metal rail. Your bedroom could be organised in no time, as the Lynx Wardrobe is available for flat packed delivery for a stress-free installation into your home.
Beautifully Modern. The Lynx Grey 4 Door Wardrobe consists of a wonderfully modern exterior to conceal your newly organised belongings, finished in a flexible grey high gloss. Designed to match with all colour schemes, all interior styles can enjoy the benefits of the Lynx Wardrobe – with coordinating items available to suit the theme. The Lynx Wardrobe also features silver fitted handles with a modern appeal, and two external mirrors for added character. Enjoy a consistently organised bedroom with copious storage features and a stylish exterior with the Lynx 4 Door Wardrobe.